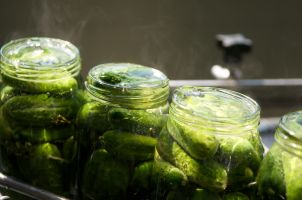 VEGETABLE PRESERVES
We have been producing them for 35 years. So great experience - supported with Hi-Tech and French know-how - guarantees the highest quality of the product.
Our road to perfection starts with the seed that is imported from the best world plantations giving us sufficiently good raw materials for our production.
Selected farmers grow vegetable on the ecologically clean area, far from civilisation. Permanent supervision over the cultivated vegetables that is carried out by our specialists guarantees that we have got perfect raw matarials for processing.
The taste of our products results not only from the raw materials, French spices or technology, but most of all it is thanks to people who are fascinated with the food of highest quality.